Continuing with our blog series on Medicare parts explained, we're covering Medicare Part B today. You'll learn about Medicare Part B enrollment, Part B costs, eligibility, coverage, and everything in between.
If you have additional questions, please reach out to our Medicare consultants. You can reach us by phone at (901) 460-7220, send us an email at info@deltabenefitsgroup.com, or fill out the contact form on this page. As always, our Medicare consultations are completely free.
Medicare Part B Eligibility
You become eligible to enroll in Medicare, which includes Part B, three months before the month of your 65th birthday. This begins your initial enrollment period (IEP), which is a seven-month period based on your birthday – it starts 3 months before the month of your 65th birthday, includes your birth month, and continues for three months after your birth month. If you are already receiving Social Security, you will be automatically enrolled in Medicare Parts A and B. If not, you can sign up manually; we'll address how to enroll in Part B later in this article.
If you do not sign up for Part B within your seven-month IEP, you may have to pay penalties. The penalty you pay will increase 10% each 12-month period that you could have received Part B but did not. Most of the time, you will have to pay this penalty every time you pay your Part B premium for as long as you are enrolled in Part B.
For example, if your IEP ended in January 2020, and you waited until March 2021 to sign up for Part B Medicare during the General Enrollment Period (GEP), your coverage will have begun July 1, 2021. Your penalty would be 10% of the standard premium, and you will have to pay the premium penalty for as long as you have Part B. Note that even though, in this example, you would have withheld Part B enrollment for a total of 15 months, you are only penalized for one full 12-month period in which you did not enroll.
What Does Medicare Part B Cover?
Medicare Part B covers out-patient medical services, including:
Medically Necessary Outpatient Services – A service will be determined as "medically necessary" if it is needed to effectively diagnose and treat a health condition. Some medically necessary services include doctor office visits.
Durable Medical Equipment – This includes wheelchairs, crutches, home hospital beds, diabetic supplies, etc.
Preventive Services – This includes services that help prevent illnesses, like the flu, or detect illnesses at earlier stages, when treatment is most likely to be more effective.
Some things that fall into the above categories of medical services covered by Part B include chemotherapy, ambulance services, occupational therapy, and injections given by your doctor.
If you are unsure if your Medicare Part B covers a specific medical service, give Delta Benefits Group a call at (901) 460-7220. Our Medicare consultants will be glad to help you better understand your coverage.
Medicare Part B Costs
If you're wondering how much does Medicare Part B cost, the answer is "it depends." Medicare Part B premiums change every year. While most people will pay the standard premium of $170.10 per month (2022 cost), Part B premiums depend on your income. Your premium is based on your most recent tax return, which the IRS will provide to Social Security. Scroll down to the bottom of this page to see the chart for 2022 Part B premiums.
If you receive any of the following benefits, your premium will be deducted from it:
Social Security Benefits
Railroad Retirement Board
Office of Personnel Management
If you don't receive any of the above benefits, you will be sent a quarterly bill for your Medicare Part B premium 2022.
Will I Have to Pay Deductibles and CoPays?
You will have a deductible of $233 in 2022, after that is met, Medicare pays 80%. It's important to know that, unlike most health insurance plans that have a maximum out-of-pocket pay, Medicare does not have that. Thus, the 20% you're responsible for is not capped with Medicare Part B. That's why we recommend you get supplemental coverage. This takes better care of you in the event you have to pay for expensive chemotherapy or other necessary medical services included in Part B coverage.
Call us to learn more about how Medicare supplemental coverage might help you.
Part B Enrollment
As stated above, Medicare Part B enrollment is typically automatic for people receiving Social Security. If you are not receiving Social Security benefits, you may have to manually enroll in Part B. There are 4 ways to complete your Medicare Part B enrollment:
Before the COVID-19 Pandemic, you could go to your local Social Security office to enroll, however, that is not currently an option
You can call Social Security at 800-772-1213 to enroll in Part B
You can also go to ssa.gov/medicare to enroll
Lastly, you can call Delta Benefits Group at (901) 460-7220, and our Medicare consultants in Memphis will help you enroll
If you are automatically enrolled in Part B and wish to terminate it, you can do so. Call us, and we will help you unenroll in Part B. If you'd like to do it yourself, you can complete the steps to stop your Part B coverage by following the instructions on the SSA's website. Note that terminating your Medicare Part B is a significant decision to consider. A Medicare consultant at Delta Benefits Group can help walk you through the pros and cons of terminating your Part B Medicare.
Should I Consult a Medicare Consultant?
While you can take the steps to enroll in Part B by yourself, a Medicare expert can help walk you through the steps and answer any questions you may have. Consulting a Medicare expert also comes in handy down the road when you have questions about your coverage, your premiums, Medicare updates, and more. When you work with Delta Benefits Group, we are always there for you to answer any questions about your Medicare at any time. Call us today at (901) 460-7220 to learn more. You can also email us at info@deltabenefitsgroup.com. We've got you covered when it comes to Medicare coverage!
We're located in Memphis in the I-Bank Tower, and we serve clients nationwide.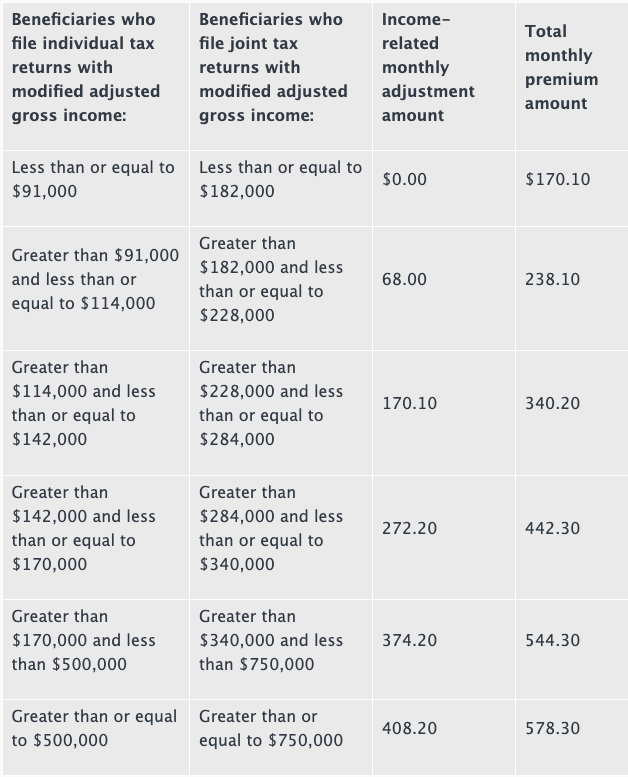 The above Centers for Medicare chart includes Medicare Part B Premiums 2022